Day 2 :
Keynote Forum
Northwestern University, United States
Time : 10:00-10:40

Biography:
Dr. Shunyou Gong is the director of Hematopathology and Hematopathology at the Ann & Robert H. Lurie Children's Hospital of Chicago and an assistant professor at Northwestern University Feinberg School of Medicine. Dr. Gong's clinical interests and areas of expertise include pediatric hematopoietic malignancies, inherited bone marrow failure syndromes, and bleeding or thrombotic disorders. As a first-author or corresponding author, he has published many landmark papers on prestigious journals including Cell, Blood, and American Journal of Surgical Pathology.
Abstract:
The 2017 revision of the World Health Organization Classification of Tumors of Hematopoietic and Lymphoid Tissues (2017 WHO) has created several new provisional entities of high-grade B-cell lymphomas, including Burkitt-like lymphoma with 11q aberration, high grade B-cell lymphoma, not otherwise specified (NOS), and high grade B-cell lymphoma with C-MYC and BCL-2 and/or BCL-6 rearrangements (double hit or triple hit lymphomas). Little is known on the clinicopathologic features, diagnostic approaches, as wells as the prevalence of these new entities in pediatric patients. We collected pathologic and clinical data from the medical record on all pediatric high grade B-cell lymphoma (HGBL) cases diagnosed in the past 10 years at our institution (2007-2017). Nine cases that did not meet criteria for either BL or diffuse large B-cell lymphoma (DLBCL) underwent FISH for MYC, BCL-2, and BCL-6, as well as array comparative genomic hybridization (CGH). A total of 52 cases of HGBL were identified. These included 23 cases of classical Burkitt lymphoma (BL) as defined by classic morphology and MYC rearrangement, 20 cases of diffuse large B-cell lymphoma (DLBCL), and 9 other cases. Chromosome 11q aberrations were identified in 5 out of the 9 non-DLBCL, non-BL HGBL cases. The other 4 cases were classified as HGBL, not otherwise specified (NOS.) We did not identify any cases of HGBL with MYC and BCL-2 and/or BCL-6 rearrangements. Morphologically, all 5 cases of Burkitt-like lymphoma with 11q aberration showed typical pathological features as described in 2016 WHO. All 5 of these cases occurred in the head/neck region. Four of these cases were localized (stage II), with the remaining case also involving a few metabolically active but non-enlarged lymph nodes in the chest and abdomen (stage III). All 5 patients achieved complete remission with standard therapy for mature B-cell lymphoma. All patients were alive with no clinical evidence of disease at a median follow-up time of 34 months (range 12-95 months). Our results suggest that the majority of pediatric non-Burkitt, non-DLBCL cases of HGBCL carry 11q aberrations. In addition, patients with 11q aberrations appear to be more likely to present with lower stage disease, thus requiring less intensive therapy, and also tend to have primary disease in the head/neck. While HGBL-NOS does happen, double hit or triple hit lymphoma is almost never seen in Children. These findings further support the classification of Burkitt-like lymphoma with 11q aberration as a distinct pathologic and clinical entity.
Keynote Forum
Founder and CEO, HISTOWIZ, USA
Time : 10:55-11:35
Biography:
Ke has over 10 years of experience in mouse histopathology and cancer research. She finished her PhD in Cancer Biology from Pier Paolo Pandolfi's lab at Harvard and led a team of investigators to publish papers in journals such as Nature and Blood. Prior to founding HistoWiz, she worked at a cancer diagnostics company (NASDAQ: CGIX) and did a postdoctoral fellowship with Douglas Hanahan at the Swiss Institute of Experimental Cancer Research.
Abstract: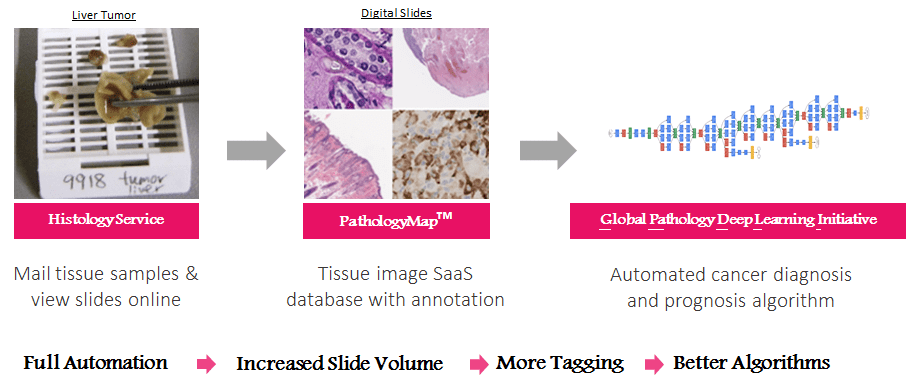 HistoWiz is a biotechnology company that automates histology and has built an intelligent tissue platform for biomedical researchers in academia and pharmaceutical industry. Our mission is to fight cancer cooperatively instead of individually. Unlike core facilities and CROs, HistoWiz guarantees a 48-hour turnaround time from fixed tissue specimens to digital slides online. Histowiz shares the scanned images with researchers via a cloud system, allowing for unprecedented viewing, archival, collaboration, tagging, search and meta-analysis of histology data.
HistoWiz has the largest online preclinical pathology database in the world growing at 220% a year. PathologyMapTM employs a novel image-tagging technology to capture key information such as species, disease, organ, experimental treatment, genetic background and biomarker information. This online platform allows researchers to compare histology data and discover new insights from hundreds of academic institutions (e.g. MSKCC, Harvard, Johns Hopkins, CSHL, Cornell, Dana Farber, NIH, MD Anderson, Stanford, the Jackson Lab, HHMI and Cancer Research UK). It also enables the development of machine learning tools for cancer diagnosis, prognosis and personalized therapy. The three machine learning tools currently being developed at HistoWiz are automatic tumor identification, mitosis count, and image similarity search.
PathologyMapTM allows cancer researchers, clinicians, medical students, computer programmers and anyone interested in learning more about histopathology to access the latest discoveries in the cancer research community.
Keynote Forum
Former President Russian Association of Clinical Cytologists Russia
Time : 12:00

Biography:
Irina Shabalova has got her MD degree in Moscow Medical Institute, PhD in 1986 from Cancer Research Centre by P.N.Herzen, Sc.D. degree in 2002. Her practice as clinical cytologist begins from 1975. Positions: Unior Researcher, P.A. Herzens'Cancer Research Centre, Associate Professor, Central Institute of Postgraduated Education, Senior Researcher, N.N. Blokhin Cancer Research Centre, 2003 - Professor, Russian Medical Academy of Postgraduated Education. She has published more than 140 papers, 9 books. An editorial board member of the journals "Clinical Laboratory Diagnostics", "Laboratory" (Russia), editorial Board member of "Acta Cytologica" (IAC), advisory Board member of "Cytopathology" (GB). MIAC, Past-president of the Russian Association of Clinical Cytologists.
Abstract:
Clinical cytology in Russia has been born in the body of Clinical laboratory diagnostics and hematology and starts to develop rapidly in early 60th. Moscow Cancer Research Centre by P.A. Herzen became a leader of diagnostics cytology: FNA and exfoliative material, rapid on site intraoperative, endoscopical and FNA evaluation, cervical screening etc. About 300 centralized cytological laboratories were founded in early 70th. The government system of quality control has been designed in 90th. Nowadays conventional and liquid-based cytology is used in clinical cytology for gynecological and non-gynecological samples as well as ancillary techniques such as immunocytochemistry, immunofenotyping, PCR, cytogenetics and other molecular studies. Automation was implemented to cervical screening in some laboratories. Russian Medical Academy of Continuous Professional Education plays an important role in scientific work, teaching and training: courses from 2 weeks to 3 month, monthly held "Round Table", computer classrooms, e-learning by lectures and scanned virtual slides etc.